Introducing BRODIE !!!
AKC Champion Sired
Brodie is from Hi-C lines and this boy has many champions in his pedigree. Brodie is a mannerly boy. He carries himself like a gentleman. He is focused and intelligent and thoughtful. Brodie produces the prettiest and the tiniest of puppies.
Brodie weighs 3.12 lbs.
Brodie, we love you!
Introducing BUDDY!!!
AKC
Buddy was born and bred here at Hill Country Chihuahuas! Buddy is just that, a good ole buddy to everyone. Buddy seriously likes everyone and is happy all the time! Buddy is a son of Abby and Maverick. Fiona and Dolly are his sisters from other litters. Buddy stayed under 3 lbs for years. Now he has reached 4.5 lbs and his coat is gorgeous! Buddy is a smiling boy and full of zest for life! We are in love with this lil fellow and the puppies he produces.
Buddy weighs 4.5 lbs
Introducing "GRADY" !!!!
AKC, Champion Sired
Grady is new to our home/breeding program. He came to us from Schroeder Chihuahuas in MO. He is champion sired and bred by Ka-Lynn's Chihuahuas. He is fawn brindled black with white markings. He has 25 champions in a 5-generation pedigree. Grady is a gentle Chihuahua and very loving. He is on the smaller side and because he was in the show ring, he enjoys a nice walk on the leash, prancing with poise. We adore this lil boy! Welcome to our home, Grady!
Grady weighs 6.4 lbs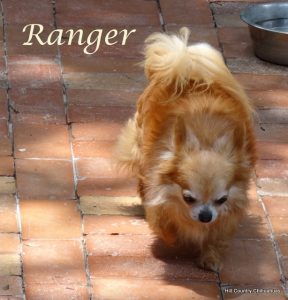 Introducing RANGER !!!!
AKC Champion Sired
This Texas boy has the most amazing coat of any long coats we have ever owned. One could braid his tail coat. Ranger is a lover, and his eyes are forever on the humans in his world. Ranger's puppies have such lovely apple heads with big eyes and shorter noses. He produces reds and sables galore! Ranger is an easy going boy and he is relaxed and happy. I wish I could be more like Ranger's temperament. Life is good. Ranger weighs 5 lbs. Ranger came to us from Donna Reid at myfabulouschihuahuas. Thank you, Donna!
Ranger weighs 5 lbs
We do not offer our male dogs for stud service. If you are seeking a stud to service your female, check with your local vet's office for suggestions.
Contact Us:
sjo14@satx.rr.com
Cell: 830.556.6049
Texas Licensed Breeder
License #138
Dog and cat breeders are regulated by the
Texas Department of Licensing and Regulation
PO Box 12157
Austin, TX, 78711-2157
1-800-803-9208/512-463-6599
www.license.state.tx.us
www.tdlr.texas.gov