An educated pet owner is a good pet owner! I love learning about this precious breed and I believe you will, too! If you are interested in a future adoption or if you are an experienced Chihuahua owner, we hope that this page will help fill in the gaps of your learning and showcase this incredible dog breed, the mighty Chihuahua! We have two other pages we ask you to read if you have adopted one of our puppies, or if you are hoping to adopt one of our puppies. We require customers to read the page titled Molera and the page titled Hypoglycemia. These pages are still under construction and as we gather more information we will post it for you to view.
Notifications of Available Puppies
We are undergoing a revamp as to how we make our puppies available. As we cement a plan/protocol, we will post it here. We do know we will not specify a date or time frame. It will probably be a weekend posting over the course of several days. The multiple ways we have previously done this, is not satisfactory for many reasons. However, we do want to give some limited guidance as to a more general time frame in which we will post available puppies.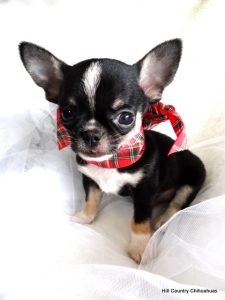 Deposit Information
We require a $200 deposit to hold a puppy. This deposit is collected through the PayPal invoice.
You do not need to be a member of PayPal to use this service.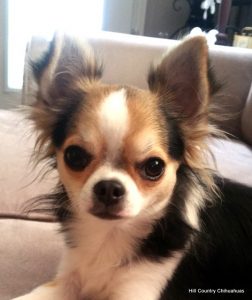 What is the Routine for Puppies While at Hill Country Chihuahuas!
Once puppy is placed on hold, and we have sent you the puppy care information and items to collect, we adhere to the following routine for your puppy!
Puppies are wormed at 2,4,6 and 8 wks with Pyrantel Pamoate.

Puppies receive their first puppy shot between 6-7 wks of age.

Puppies visit our vet's office for the all important litter check between 7-8 wks of age.

Photos of your puppy are updated every two weeks and sent to you via email.

After the vet check, we will email you and let you know how the vet check went, puppies weight and we will confirm your pickup visit and email you the invoice.

Final payment is not due till your pickup visit. We accept cash for the final amount.

Puppies usually go home at 9-10 wks of age. 9 weeks is usually accepted, unless puppy is on the smaller side, then it may be 10 wks.

We will schedule a phone consult prior to your pickup visit. The phone consult can take anywhere from 30 min -1 hour depending on many factors. The phone consult is very important. It is where we go over the shot record, the feeding schedule and many other topics. We will cover the topics in detail and then ask if you have any questions and answer them at that time. We want each customer to be educated when puppy goes to their new home. Customer will be more confident and puppy will be well cared for!

The pickup visit usually takes 10-15 min. Papers are signed, payment is made, photo is taken and then customer and puppy go home to bond and start building memories!

Due to Covid

we are no longer meeting customers here at our home for the pickup visit. We will gladly meet them at the HEB off I-35 and FM 306. The address is 2965 I-35, North New Braunfels, TX 78130. We will meet outside and ask that you wear your mask and being your own pen for signing paperwork. If meeting in south Austin is an option you would like to utilize, then we will deliver your puppy to a location off Slaughter Lane and I-35 in south Austin. This typically cuts your driving time by two hours round trip. We do not charge for this delivery. Please, let us know ahead of time so we can make plans.
How Much Will My Puppy Cost?
Our pet pricing begins at $1800 and can go up to $2500 depending on many varied factors. Each puppy is priced individually in the litter. We do not necessarily charge more for either coat length or sex. These are pet companion prices, without AKC breeding rights. If breeding rights are desired, we do charge an additional fee ($450). Email us for more details if you are seeking full rights on a puppy. We are required by state law to charge state taxes of .0675%. That will be added to your puppy pricing. Your final payment is not due till your pickup visit. The deposit, when paid to hold your puppy, will be deducted from the puppy pricing.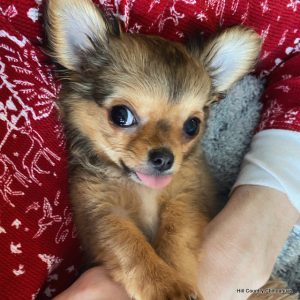 Visiting Policies
We have suspended all visits due to Covid. Thank you.
The well being of our puppies and dogs is paramount to us and therefore we do not offer open visitation to customers. Many infections can be easily brought into our home/yard/porches on the soles of shoes and even the fabric of clothes. We are thankful that we have not had an outbreak of infection in our history of dog breeding, but those we know and love have experienced this type of thing and it is heartrending. We only offer scheduled no-contact visits to customers that have paid the deposit on a specific puppy. This visit can happen within a limited time frame after puppy has had their first shot and possibly after the vet check has been done. The customer is not allowed to touch puppy at all. We hold the puppy so the customer can view puppy and puppy can hear the new owner's voice.
When you come for any visit, make sure you have not visited a Petsmart or dog park or even a feed store prior to coming to our home. Wear washed and clean clothes since Parvo germs can live on fabric. Until all the puppy shots are given, your new baby is at risk and caution is advised.
Items to Collect
The IRIS 4-panel exercise plastic playpen with door or without door. You can find these through Amazon, Walmart, Chewy.com, Petco, and Petsmart. They now come in lots of different colors and are lightweight, easy to clean and lift. I use these all the time for different locations. Storage is also a breeze as the panels can come apart and slide under your bed when not in use.

Diamond puppy formula dried food~ can be found online or at Tractor Supply

NutriCal or NutriStat. Your puppy will go home with a tube that he/she is familiar with and like the flavor. We have begun to send each puppy home with a new tube. (We use Doc Roy's FortiCal Gel from Revival Animal Health. 800.786.4751)

Bed~ Ross has a large selection and affordable pricing.

Puppy pads

Food and Water dish that is connected. Puppies are adorable and sometimes use their food dish as a bed and gallop over the water dish with glee! We want to make sure that food/water will not easily tip over and spill.

Pedigree puppy formula canned food. During relocation stress the moist food is very important to assist several things, including hydration since the main ingredient is water. Dried food can be a bit boring for puppy while he/she is processing their new surroundings during relocation. But they rarely turn down the moist food, so calories going into puppy are always helpful in preventing low blood sugar!

We do not mind if you want to change food as puppy matures, however, it is not advised in the first 1-2 months and when you do finally do it, please remember to do it gradually so that it does not upset puppy's gut.

How Much Will My Puppy Weigh as an Adult ?
The Chihuahua breed conformation states a weight up to 6 lbs. However, some Chihuahuas grow larger than the 6 lb range. Breeders use a Chihuahua Weight Chart to estimate the adult weight of a puppy. Please, know that we never guarantee the adult weight of a puppy. There are many reasons for this, but mostly because it is impossible to do accurately and consistently. We have witnessed the weight chart be wrong too many times to depend on it's estimates with assurance. Adult weight is a "Wait and see" situation. We have seen large puppies turn into small adults and small puppies turn into large adults. If it was something a mere human could figure out 100% of the time, then nature would be vastly disappointed that she could no longer surprise us! I think she lives to surprise me and in any "job" that works closely with nature, there are many surprises and few guarantees. So, with this said, we will give our customers the Chihuahua weight chart estimates for the available puppies. But there are no guarantees, at all. If weight is a priority to you in the adoption choice, then we highly recommend you adopt a teenager or young adult since the adult weight estimate by 7 months is more accurate. We want all our puppies to be significantly loved and valued regardless of their adult weight. Remember that even a 6 lb Chihuahua is still a small dog in the canine world. A Chihuahua is a little dog with allot of love to give! We hope you welcome whatever size your puppy grows to be!
Pet Carriers
Chihuahuas find it absolutely splendid to be near their person. Carriers allow this wonderful little creature to stay close to our hearts while allowing our hands to be free. We recommend the Pet-A-Roo Pet Carrier! It is tested by our family members and works very well and holds up nicely, too.
Treat and Dietary Suggestions!
CET Veggie-Dent

~ Unfortunately, Chihuahuas are known for several dental issues. #1 They hate to let go of those puppy teeth! Then we must pay the vet to pull those little puppy teeth out and give room for their adult teeth to come in, nice and straight. This treat product assist those puppy teeth to come out! Just make sure that you put these chews in your own ziplock bag where no air will get in because they will loose their flavor and then lay on the living room floor with on one chewing on them.

Diamond Puppy Food

~ We really have been pleased with this dried kibble for many years now.

Doc Roy's GI Synbiotics

~ This product is the best I have found for gut health. It has a scoop inside and you scoop up what appears to be sawdust, and sprinkle it over the dog's dried kibble. So, when your dog eats the dried kibble they are also ingesting this wonderful product to promote good balance of bacteria in the gut. A healthy gut, a healthy dog!

Revival Animal Health: 800.786.4751

This is a great company and we buy many of our vet supplies from them. The Doc Roy's products are their brand. We also buy our Doc Roy's Forti Cal from Revival and it is affordable and the dogs/puppies love the flavor! If you call them, ask for their free catalog. It is very educational to read and browse through.
Grooming
Chihuahuas are easy to groom and there is no need to make an appointment with a professional groomer. We find this Mane'n Tail Detangler is an excellent spray for the long coats. It makes their long coat silky and smooth and seems to keep their coat cleaner for a longer period of time.
This shampoo is the BEST we have found! We now order it from Amazon. It's packaging is strong and durable and one squirt goes a long way. The smell is amazing and lingers for days and days. It has antibacterial ingredients to keep your puppy healthy, too!
This OcuBright product is sold at our vet's office and it is the only tear stain formula that is effective. (This product is no longer sold at our vet's office and very difficult to find online. If you have a source to purchase this product, please email me and let me know so I can share it with my other customers. Thank you!)
We like short toe nails on our doggies. Your puppy will come with his/her dew claws removed and your puppy will have had their toe nails clipped numerous times while in our care. It is part of their socialization. We encourage you to find a nice little pair of kitty cat toe nail clippers that are similar to the ones pictured above. We use these on not only our puppies, but our adult dogs, too. All you need do it to tip off the toe nails on a routine basis and your puppy should allow you to do this without a fight or a melt down. Be brave and trim those toe nails!
Chihuahua Books for Your Library
If you are a person that likes to read books rather than only online material, here are some suggestions on good Chihuahua reading! The breed has a long history and it really is fascinating! My favorite of all time books on the Chihuahua is the
Pet Library's Chihuahua Guide

. It can be difficult to locate and some copies I first bought were in bad condition and held together by a rubber band…. but oh! Such great information from this little book. Written by Hilary Harmar, from England, in the late 1960's, this book is an excellent source of information.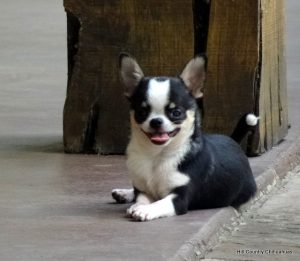 Long Coat and Smooth Coat
Chihuahuas come in two coat lengths: the long coat and the smooth coat. When we breed a long coat to a long coat, all the puppies in the litter will be long coats. However, if we breed a smooth coat to a smooth coat or a smooth coat to a long coat, the puppies in the litter can be either/or coat lengths. In those litters we must wait for 3-4 wks after puppies are born, to accurately determine their coat lengths. In those litters, puppies will be made available for deposit only after we know their coat lengths.
Cozy Petz Boutique
If you want custom made sizes and designs for your new Chihuahua's wardrobe, check out the Cozy Petz Boutique! Above you will see how adorable her creations are and I have heard they are affordable, too! Thank you, Cathy H. for recommending this talented lady!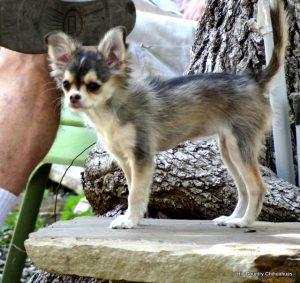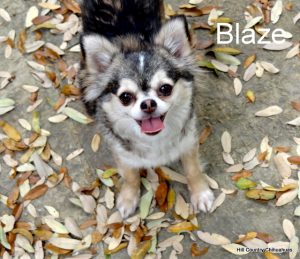 Blow Out in the Long Coat Chihuahua
Long coat Chihuahuas are born with a lovely, fluffy coat of puppy fur! Somewhere around the time of teething, you will notice a lanky looking teenager and wonder where your fluffy puppy disappeared to! This is normal and we call it "Blow Out". Some people call it "Puppy Uglies" and in the Pom breed it is very pronounced. Some Chihuahuas have this event for only a short period of time and then the adult coat begins to come in and by 12 months to 14 months they are a magnificent example of a long coat Chihuahua. But other lines can take up to 24 months before their adult coat is finally in, in all it's glory! Do not despair! This is normal and it will pass! The long coat Chihuahua is typically easy to groom and do not need professional grooming or trimming of their fur.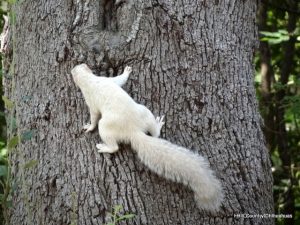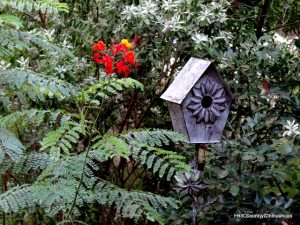 Location and Pickup
July 2020 Covid 19 Update on Pickups
As a result of the pandemic, we are no longer doing any pickups here at our home. If you are local we will meet you in the parking lot of HEB Super Center, 2965 I-35, North New Braunfels, TX 78130. We ask that you wear your mask and practice social distancing and bring your own pen. There are several papers where your signature is required. Pickups are lasting about 15 minutes and then you are free to head home and bond with your new baby! If you are driving from the north of New Braunfels and would like a delivery to south Austin, just let me know ahead of time. We can meet in south Austin off Slaughter Lane at South Park Meadow area. This will reduce your driving time by about 2 hours round trip. We do the pickup outside. We do not charge for this delivery service.
We are located between Austin and San Antonio, Texas. We are close to the little, historic town of Gruene, TX. Consider visiting Gruene for an early lunch before driving the 5 minutes to our home for your puppy pickup!
We are no longer able to ship our puppies

. Laws changed several years ago and closed that door for puppy transport. However, we have several ways for you to do your puppy pickup. #1 You are welcome to come to our home and pick up your new puppy! Most of our customers choose this option. (Please, see above Covid 19 changes) #2 If you are coming a long distance from the north, we are more than willing to meet you in south Austin for your puppy pickup. My dear sister lives in Austin, so I usually schedule the pickup and then get a nice visit in with her, too, before heading back home. #3 If you are flying into either the Austin airport or San Antonio airport we can meet you at the airport in the baggage claim. Then you can pickup your puppy and turn around and fly home! (We can delivery puppy to the airport but customer will need to come to the parking lot area for pickup of their new puppy. We will not be entering the terminal due to Covid 19 risk.)
I retain the right to choose the best home for my dog/puppies and refuse any sale for any reason.
I also retain the right to refund a deposit and terminate a sale if I feel there is a reason to do so.
Contact us:
Email is the very best way to reach us. Texting is 2nd best mode of communication. Due to health issues and family responsibilities, calling is not advised. We do a phone consult before puppies are picked up and that is very important and can last up to a hour. But for basic questions, please take the time to read over our website and hopefully you will find many answers on this page. We try hard to keep our home page updated daily or every other day with current information. We will sometimes return phone calls, but we will always return emails. Thank you for this consideration.
sjo14@satx.rr.com
Cell: 830-556-6049
Texas Licensed Breeder
License #138
Dog and cat breeders are regulated by the
Texas Department of Licensing and Regulation
PO Box 12157
Austin, TX, 78711-2157
1-800-803-9208/512-463-6599
www.license.state.tx.us
www.tdlr.texas.gov