Introducing APPLE !!!
AKC
Apple is one of our own girls, born here at Hill Country Chihuahuas! Her mother was Star and her father was Ranger. Star was born here and is the daughter of Wyatt and Sadie. So, Apple is very special and we own her parents and her grandparents on her mother's side. Apple is a happy girl and always ready to welcome you into her world. The whole world is Apple's friend! Apple has not yet had her first litter. Hopefully, soon, Apple will produce happy little puppies with her same beauty and unbounding joy!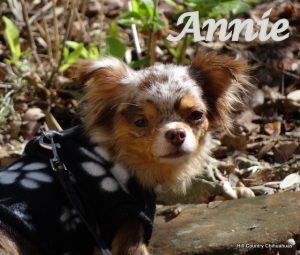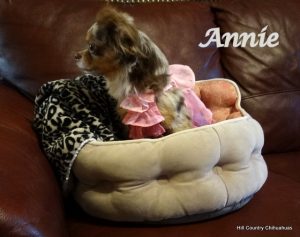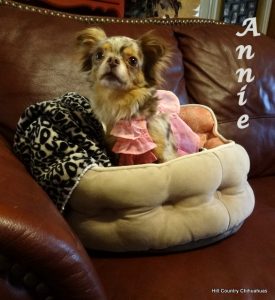 Introducing ANNIE !!!!
AKC
Annie is new to our program! She is our only merle Chihuahua and she is a chocolate/tan/cream long coat. Annie came to us from out of state and loves to love and be loved. She has a very friendly temperament and enjoys other Chihuahuas and all humans. Annie is very trusting and we adore her. We are hopeful Annie will produce puppies this summer 2020. We are so happy Annie is in our family now!
Introducing COOKIE !!!
AKC
Cookie is a lovely, apple head, cobby built, smooth coat Chihuahua with the largest, almond shaped eyes! Cookie is happy all the time. She likes to know what's going on with the neighborhood and has her own share of gossip to report. But overall, this girl is friendly with all and a generous hearted Welcome Wagon.
Introducing DOLLY !!!
AKC
Dolly was born here at Hill Country Chihuahuas! Her mother was our Abby-girl and her father was Maverick. Dolly resembles her proud papa with the red spots on white and sable mixed in her spots. Dolly is a type A personality and loves multi-tasking. She is intelligent and alert and a busy bee!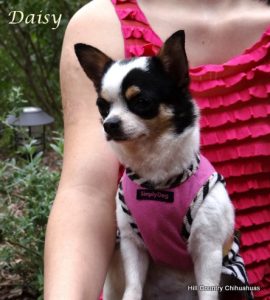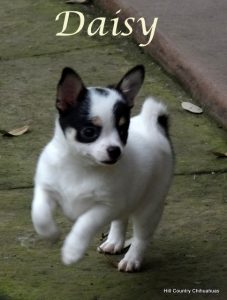 Introducing DAISY!!!!!
AKC
Daisy was born here at Hill Country Chihuahuas! Daisy's mother was Abby and her dad was Hero. She has many champions in her pedigree from both her parents. Daisy is intelligent, like her mom, Abby. She is sweet and affectionate but always on the look-out for a new adventure to participate in, with gusto! Daisy went through her much needed growth spurt and now she will officially join our breeding program! Daisy is the only offspring of Hero's we have here and we are super excited to have her carry on his lines. We love our Daisy-girl!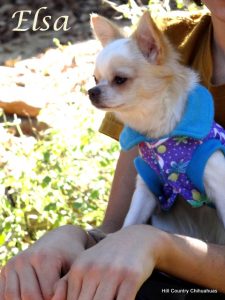 Introducing ELSA !!!!
AKC
Elsa was born here at Hill Country Chihuahuas! Her mother was Kaylee and her father was Wyatt. Elsa is a gorgeous girl with the prettiest eyes and great apple head! Elsa is our daughter's dog and thus the name, ELSA, after the movie FROZEN. Elsa has a very loving personality like both her mother and father. She is easy going and affectionate and just absorbs any stress I might have while I am holding her close. We usually breed Elsa with Buddy and she will produce long coat, spotted puppies, just as sweet as she is!
Introducing HOPE !!!!
AKC
Hope came to us from out of state and is the sweetest girl, ever! She is my son's Chihuahua and she is fully content to be as close to him as possible. She has no urge to explore, or stir up trouble, or enter into the gossip circle. Hope loves her human and where ever he is, that is where you will find her. We usually breed Hope to Wyatt and they have the prettiest puppies with the same sweet nature.
Introducing JOSIE !!!!!
AKC
Josie was born here at Hill Country Chihuahuas to Mia and Ranger. Josie is not very big, but she has a personality the size of Texas! Josie, if she were a human, would attend rodeos and wear cowboy boots and possibly chew tobacco….Josie has no fear. But she is just the sweetest girl to her human family. She keeps the canine girls in line and has to be the mediator for any conflict that arises. Josie is rarely still.
Introducing LACEY!!!!!!
AKC
Lacey is a fawn long coat with black sabling and although her dark mask has faded, you can still see a hint of it on her pretty face. Lacey is a precious, sweet girl and kind to all. She is not one to stir up trouble or gossip about her friends. She is eager to be liked and she likes others. Lacey came to us from Heart of Texas Chihuahuas and we love her very much! She has a wonderful pedigree and we are thrilled to see her upcoming litter!
Introducing MARLO !!!
AKC
Marlo is our Welcome Wagon gal! Marlo truly never meets a stranger and will jump right into your lap and begin to lick your face, whether she knows you or not! She enjoys leaping from one piece of living room furniture to the next and then finally settles on the highest point possible and lays down with regal poise to observe her kingdom and subjects! Marlo is originally from GT Chihuahuas and her chocolate/tan/white coat is absolutely yummy!
Introducing FIONA !!!
AKC
Fiona was born here at Hill Country Chihuahuas to Abby and Maverick. Dolly and Buddy are related to Fiona, although they all come from different litters they all have the same parents. Fiona looks very much like her sweet mama, Abby. We have already kept back one of Fiona's daughter's to add to our breeding program, and her name is Trudy. Fiona is a lively girl, with places to go and people to see! She is all about fun and enjoying life! She loves a good lap but you will find yourself petting her, then she is off to better places, only to come back and peek on you just to make sure your lap is available whenever she gets the notion to return and sit awhile.
Introducing SECRET !!!!
AKC
Secret came to us from Doubletake Chihuahuas, a Texas girl, with a guarded but super sweet temperament. Secret takes awhile to trust but when she does what a reward her love is! Secret is typically bred with Brodie and produces small, adorable puppies. Secret has great markings on her smooth coat and often her puppies carry on the same markings.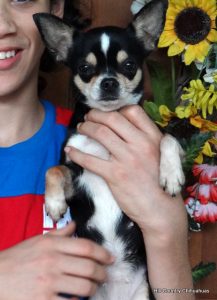 Introducing STAR !!!!!
AKC
Star was born here at Hill Country Chihuahuas. Star is from Sadie and Wyatt's past litter. Star carries on her mother's qualities as a wonderful breeder with non-complicated deliveries, great milk supply and adorable, happy puppies. We breed Star with Ranger and have kept back many of her daughters to stay here with our family/program. Apple is her daughter, Buffy-Bear is her daughter and Beulah is her daughter. We love her puppies, as you can tell! Star is a busy girl, full of energy and so loving.
Contact us:
sjo14@satx.rr.com
Cell: 830.556.6049
Texas Licensed Breeder
License #138
Dog and cat breeders are regulated by the
Texas Department of Licensing and Regulation
PO Box 12157
Austin, TX, 78711-2157
1-800-803-9208/512-463-6599
www.license.state.tx.us
www.tdlr.texas.gov