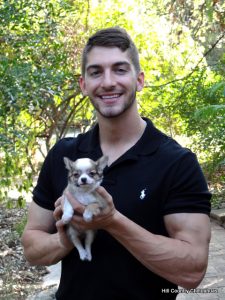 Hill Country Chihuahuas
Health Guarantee
If within a year a qualified veterinarian detects a genetic disorder, to be serious enough to warrant the euthanization of the dog, the report needs to be sent to the breeder immediately. The breeder will have a licensed veterinarian interpret the report. If the breeder's veterinarian concurs, breeder will replace the puppy with a puppy of equal value. No refund will be given.
Breeder will not cover any veterinarian cost after the puppy has left the home of the breeder.
Puppy is covered 3 days from time of purchase for Parvo. Buyer is strongly urged to take the puppy to the vet of his/her choice within 3 days of purchase. If puppy is not checked by buyer's vet within 3 days of purchase, this health guarantee is void and null. Your new puppy has been vaccinated for Parvo, Distemper, Adenovirus Type 2, and Parainfluenza.
Puppy has been given ___puppy shots. Puppy will need ___ more shots to be protected against Parvo/distemper.
Puppy has been wormed at 2,4,6, 8 wks for roundworms and hookworms with Nemex 2. At time of pick up puppy care instructions and shot record were covered in detail and given to buyer for their records. Buyer is responsible to read and educate themselves about the care of the Chihuahua breed.
There are certain disorders: allergies, thyroid dysfunction, demodectic mange, and other autoimmune disorders that are not covered by this guarantee. Hernias are not covered by this guarantee. Internal parasites, coccidia, giardia is not covered by this guarantee. Kennel cough is not covered by this guarantee. Cherry eye is not covered by this guarantee. We do not guarantee against luxating patella. Absolutely no warranty on hypoglycemia (low blood sugar). We do not guarantee against CDA (Color Dilution Alopecia) which can occur in the blue coat colors. The customer will go home with sheets on puppy care, shot record/worming record, registration papers, low blood sugar prevention and various other papers to assist in customer education. We have spent time with the customers on the phone (during the phone consult prior to pick up) going over puppy care topics and general Chihuahua care suggestions.
The breeder does not guarantee adult size, temperament, color, ear carriage, bite or fitness for breeding.
Your new puppy was vet checked by our local vet.
Within 3 days take your new puppy to the vet of your choice. Failure to do so, will make this guarantee null and void.
Continue a shot/deworming routine appropriate for the age of your puppy
Read puppy care instructions and do research on your new puppy online or at your library
Date of Phone Consult: ______________
I retain the right to choose the best home for my dogs/puppies and refuse any sale for any reason.
I also retain the right to refund a deposit and terminate a sale if I feel there is a reason to do so.
"Dog and cat breeders are regulated by the Texas Department of Licensing and Regulation"
P.O. Box 12157
Austin, TX 78711
1-800-803-9202
1-512-463-6599
www.tdlr.texas.gov
License Number: 138